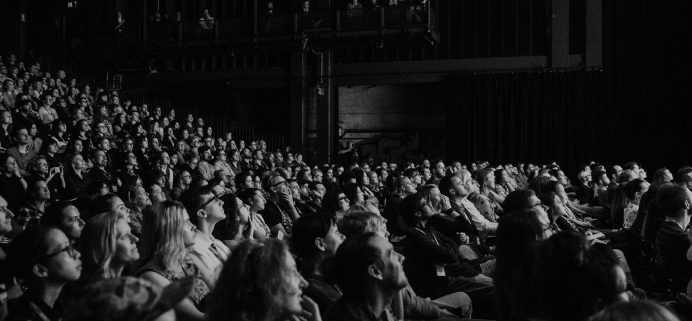 A couple of weeks ago, I had a chance to be part of The Design Conference Brisbane (#tdcbne17), a two-day event full of talks, ideas and designers from different industries gathering in Brisbane. Among the presenters, I was really intrigued by the experience of Camille Walala, a Commercial Artist from UK. Camille has developed a style of geometry with vibrant colours to show her desire for putting a smile on people's faces.
The main theme of Camille's talk and what I've largely taken away, is that it's alright to start your work small, messy and a little immature – its part of the process. With that in mind I'll take you through some snippets of Camille's adventure.
Starting from the Street
After graduating from University with a background in textile design, like most people, Camille was lost. She didn't know what to do with the degree she held, nor did she have the drive to continue running her small pillow case design business. She was encouraged to have a go at painting in the streets by her boyfriend of the time. Her style was a little young and unsophisticated – but still beautifully bold and unique. The experience grew her attachment to painting and allowed her to use the city as a giant canvas.
Painting walls
A vital part in Camille's style development was painting walls. She was invited by her friend to face-lift the front of a old lady's house in 2013. She said it was great to just be able to bring some joy to the house owner and to herself as well.
Followed by a shop.
Then a building. There was a stranger passing by the building said to Camille, "Every building should be colourful".
And a playground.
Going commercial
These days Camille is becoming quite famous in print, web and Instagram, with more and more collaborative opportunities hitting her doorstep.
Wrapping up
The adventure of this adorable lady reminds me, as a designer, our job is not only to catch the trend and create eye candies, but also to keep trying and to develop our own style. Another big one is to remember the reason why we design. For Camille, it is to bring happiness to people by putting simple shapes and bold colours onto a shop, a building and any place we usually just pass by and never notice.
You can find more about Camille Walala here or follow her on instagram.
https://netengine.com.au/wp-content/uploads/2020/08/2017-06-15.png
385
692
admin
https://netengine.com.au/wp-content/uploads/2021/01/logo-netengine-130px.png
admin
2020-08-13 09:00:59
2020-08-13 09:00:59
The Design Conference Brisbane 2017: Start Small